Structure and Organization of the main committee GAEB in the DVA
Since 1 January 2005, the German Joint Committee for Electronics in Construction (GAEB) is integrated in the Deutscher Vergabe und Vertragsausschuss für Bauleistungen (DVA). The foundation of GAEB's work is based on the statues of DVA.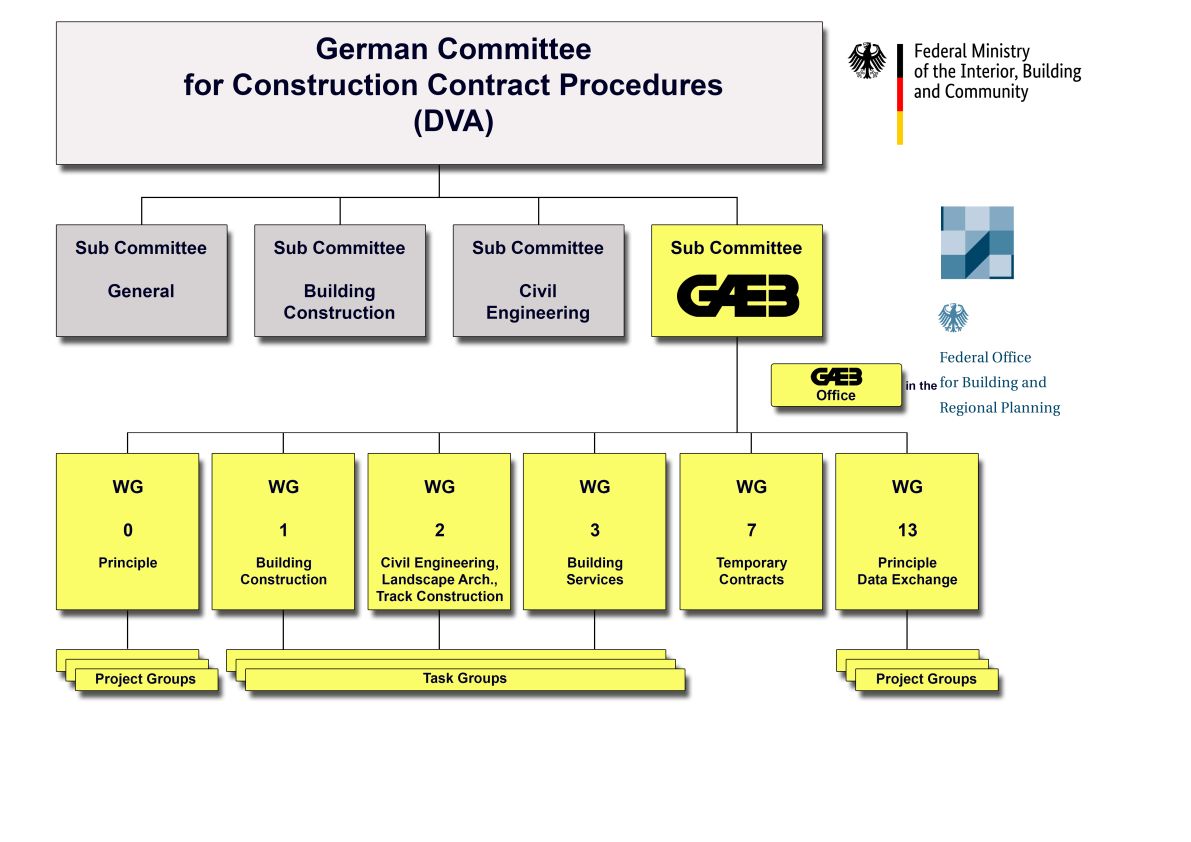 It makes general decisions concerning the work within GAEB and coordinates the working groups.
The head is appointed by the meeting of members.
Full members are:
The heads of the working groups and representatives of:
Departments of the government that deal with construction issues,
Leading organizations of the construction industry and construction technology, e.g. HDB, ZDB, VDMA
Public building authorities
Communal central organizations.
Associate members are:
Architect- and engineer organizations
Employers' liability insurance associations,
DIN Deutsches Institut für Normung e.V.
Representatives of the system house for the electronic processing of STLB-Bau.
Experts can also be consulted in the discussions of the main committee.
STLB-Bau to the working groups which are established according to professional aspects and decides about work categories that are to be newly developed or not to be maintained anymore.
The branch office lies in the area of operations of the Federal Ministry for the Environment, Nature Conservation, Building and Nuclear Safety with the Federal Office for Building and Regional Planning (BBR) in Bonn.
The director of the branch office is appointed by the Federal Ministry for the Environment, Nature Conservation, Building and Nuclear Safety.
The employees of the branch office of the main committee GAEB supervise the execution of the decisions made by the main committee GAEB and coordinate the work of the main committee's panels.
Infos to Main Working groups
The main working groups coordinate the interests of the committees attributed to them and develop submissions for the main committee GAEB. They also decide on issues that could not be resolved amicably in the responsible working teams or project groups.